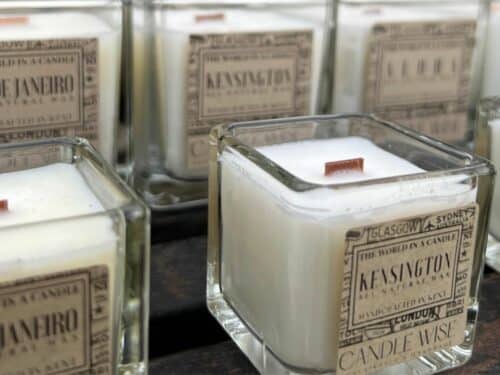 Candle Wise
It's not an ordinary candle, It's a whole new experience.

Candle Wise believe in more than just crafting candles; they create experiences. Their creations are not ordinary; each one is a testament to their dedication, craftsmanship, and the sheer love for what they do. Every flicker of their candles promises a whole new experience – one that resonates with warmth, elegance, and a touch of magic.

Based in the picturesque Benenden-Kent, Candle Wise is an award-winning family-run entity that stands proud on its traditions while constantly evolving with the times. Their candles are more than just an amalgamation of ingredients. They're a blend of creativity, tradition, and modernity.

What sets them apart?
Quality Ingredients: Their commitment to quality is uncompromising. They use premium coconut wax, a testament to their dedication to the environment and ensuring a clean burn. All ingredients are carefully sourced from local UK producers.
Handcrafted Perfection: Every product from their stable is handcrafted, designed, and produced in small batches. This ensures that each creation carries a unique touch of Candle Wise.
Sustainability: The environment is at the core of their operation. Sustainability isn't just a word for them; it's their ethos. From sourcing to production, they ensure that their footprint is green.
Diverse Range: Their offerings don't just stop at candles. They take pride in a diverse product range that includes Container and Pillar Candles, Scoopable Melts, Air Fresheners, Room Diffusers, Wax Lanterns, Candle Holders, Incenses, and a multitude of other captivating creations. They are perpetually innovating, forever in the quest for the next best thing.

As they evolve, their mission remains unwavering: to create products that are not just aesthetically pleasing but have the power to make a difference. They invite you to be a part of their journey, to experience the world through the warm glow of their candles.

After all, while candles are universal, ones like theirs are found only at CANDLE WISE.

See you soon, as we together light up the world, one candle at a time.

Candle Wise recently won an award of the Most Sustainable Candle Gifting Business in Kent.