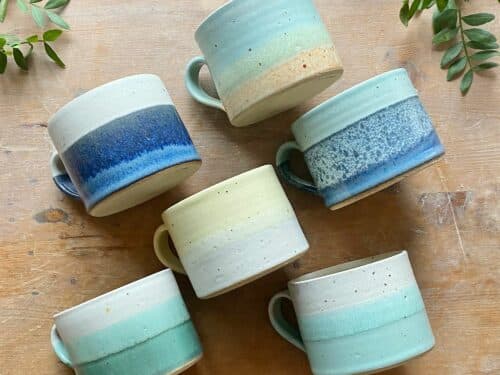 Emily Doran Pottery
Emily Doran makes wheel thrown contemporary ceramics in a coastal palette from her East Sussex studio. After initially working on the other side of the creative process in arts marketing, she retrained as a potter, fulfilling a lifelong dream of becoming an artist herself. Now 10 years later, she works from her garden studio on the edge of Kent, handcrafting pottery daily on the wheel.

She makes intentionally small batches of pottery, working to be the opposite of mass produced factory tableware, believing in craftsmanship and traditional skills. Pieces are made slowly and intentionally and everything is individually dipped in buckets of unique glazes. Inspired by a love of the coast and sea her contemporary kitchenware comes in a range of glazes named after the seascapes they evoke from calm waters to misty lagoon.

You can find her pottery for sale in a many indie shops and galleries around the UK. Her pottery has been stocked at some top London retailers including Liberty and the National Portrait Gallery.