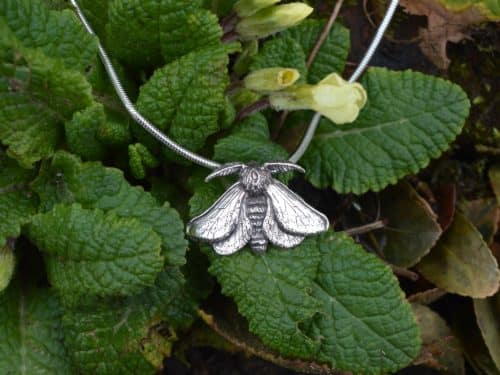 Emma Keating Jewellery
Emma Keating is a designer and sculptor of animal-themed silver jewellery, choosing as her subjects anything from the curiously endearing Praying Mantis to the matriarch of the English Cottage Garden, the Queen Buff-Tailed Bumblebee. Her work reflects her love of simplicity and her belief that animals are beautiful in their own right. In her pieces, she tries to capture the true essence of the creature – which often means omitting details which would detract from the creature's key characteristics. Secretly she enjoys modelling the beasts much more than the beauties!

Though starting her career as a helicopter design engineer, Emma's lifelong passions have always been art and animals. Bizarrely a robbery in 2015 led to her being introduced to the technique of Lost Wax Casting and, her first piece – the Red-Eyed Tree Frog (a.k.a. Quasimodo), convinced her to pursue her passion more seriously. She now works full time from her home in Westenhanger Kent, and exhibits her work at local and national craft shows including Wisley, Hever Castle and Chelsea.