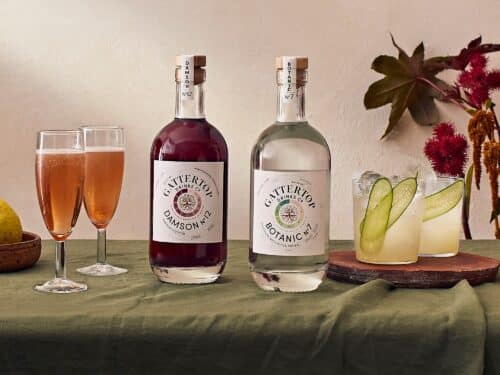 Gattertop Drinks
Gattertop Drinks Company is at the forefront of orchard inspired organic spirits.

Owing our namesake to the historic farm dating back to 1086, all our organic ingredients are hand-picked from orchards steeped in history.

Founder, Gemma Standeven, took inspiration from her family farm. Benefitting from the abundance of produce, Gemma experimented until she achieved two extraordinary vodkas that are versatile and full of flavour.

The first orchard inspired creation was Damson Nº12. Small batches of organic damsons are steeped in premium British vodka for a year resulting in the deep and delicious flavour found in the liqueur. Damson Nº12 is a multi-award winner at the Great Taste Awards.

Botanic Nº7 is the UK's first orchard-led spirit, infused with seven botanicals foraged from the grounds of Gattertop. Delicious neat, with soda, or in a wealth of cocktails; Botanic Nº7 is a natural spirit of ex-ceptional taste achieving the Spirit Gold award from the IWSC.

Sustainably driven and one of the first carbon-neutral drinks companies in the UK, we are committed to preserving and protecting the orchards, safeguarding the landscape that we rely on to produce our meticulously crafted organic vodka spirits.