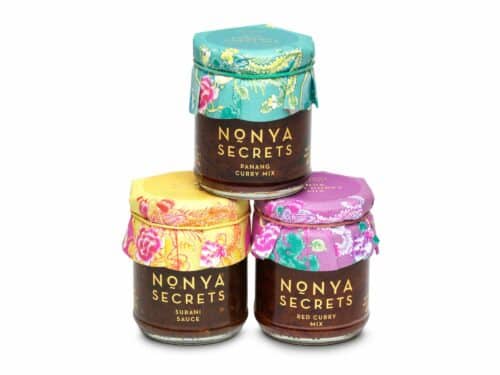 Nonya Secrets
Nonya Secrets range of sensational cooking sauces lift the lid on authentic Nonya cuisine, a six centuries old fusion of Chinese ingredients meticulously combined with the distinct spices and cooking techniques employed by Malay and Indonesian communities.

In Singapore food is a national obsession and company founder, Maureen Suan Neo, grew up with vivid memories of the fantastical family feasts. Traditional recipes often remain secret, handed down through generations of female descendants. Maureen's mother continued the practice imparting a full repertoire of Nonya specialities to the budding chef.

During the 80's and 90's, Maureen and her husband John, managed five successful restaurants in London. During this time, Maureen was responsible for the lengthy preparation of the Rempah spice mixes; when they decided to look for a new business challenge, the adaptation of these handmade recipes into a ready-to-use cooking sauce format seemed to make perfect sense!

From a fragrant Sambal Curry Mix to a rich Rendang, Nonya Secrets removes the need for time consuming preparation whilst delivering all the intense, complex flavours that epitomise this culinary style. Each jar includes a straightforward recipe suggestion to produce a sensational fresh tasting meal. Now everyone can sample 'magic in a jar'.