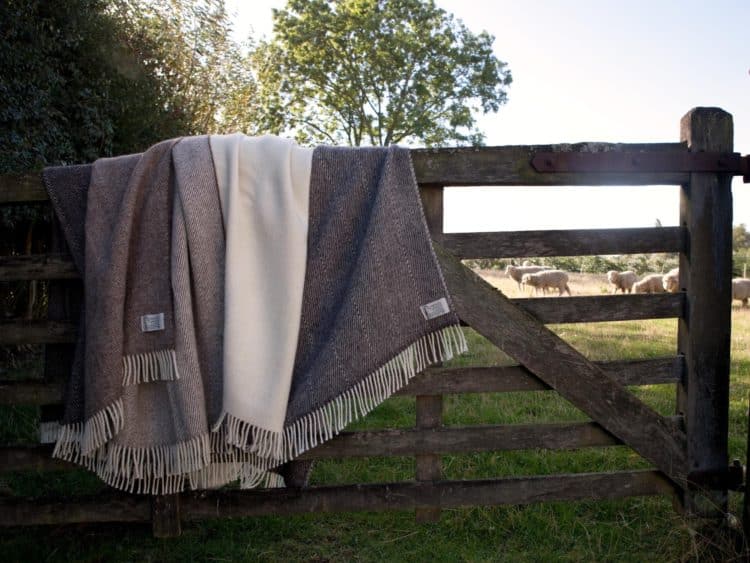 Romney Marsh Wools
Established in 2018, Romney Marsh Wools is owned and run by Kristina & Paul Boulden and based on the family farm on the Romney Marsh, Kent, with Romney sheep having been in the family for at least 6 generations. Current numbers are around 1,200 Romney ewes in the flock along with 150 Merino ewes.

Romney Marsh Wools was born through a firm belief in raising the awareness of all the benefits wool can bring and a wide range of products are produced using their own Romney wool. Each of the products are made by the very best British makers, all of whom are experts in their field and many who still use traditional techniques. The range includes homewares such as throws, blankets & cushions as well as clothing, from flat caps and baker style caps to scarves, ponchos and moccasins, to name just a few. Lanolin is a naturally occurring fat in wool and this is used to produce a range of toiletries including shower gel, shampoo, soap and moisturiser.

The wool is also sold as raw and topped fleece as well as yarn in a range of colours. The semi-lustrous fleece of the Romney lends itself perfectly for spinning due to its long, soft staples with a slight crinkle and is sold as raw and topped fleece as well as yarn in a range of natural colours.

The most recent addition to the farm is Romney Marsh Shepherds Huts, two luxurious huts which sit in the heart of the farm, with stunning views over the Romney Marsh and a chance to unwind and get close to nature, with vast open skies and beautiful, peaceful surroundings.

The full range is available to buy online and from selected stockists throughout the south east as well as events throughout the year.