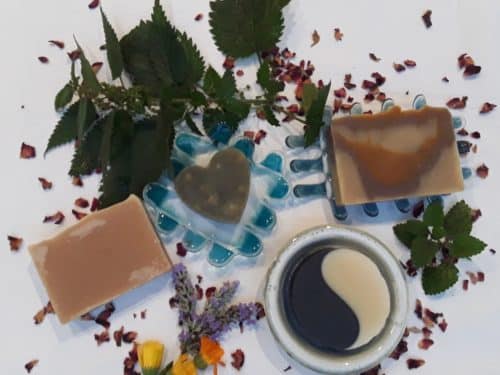 Soapy Herbs
Soaps your body would choose. We make hand crafted soaps in Cliffsend, Ramsgate. Our soaps are all vegan (except one vegetarian) cold processed and made with natural ingredients; herbal tinctures, infusions and infused oils, as well as dried flowers and herbs, scented with essential oils. We use natural clays and exfoliating ingredients that add colour and texture to the soaps. A number of the herbs and flowers we use are locally sourced and some are grown organically in our own garden.
No artificial colourants, fragrances or additives such as SLS or parabens. We don't use palm oil, animal by-products or bees wax and believe in a zero waste approach, minimising packaging and everything is biodegradable.

We also sell face and body creams that we have formulated to complement our soaps.

We commission a few local artists to create unique soap dishes in glass, pottery and resin to sell alongside our soaps.